STORAGE BY THE BOX - is SHARED CLIMATE CONTROLLED STORAGE UNITS by V-BOX IN HO CHI MINH CITY STARTING FROM 150,000 VND / BOX / month
Are you in search of shared climate-controlled storage units for various products such as fashion items, office supplies, household goods, documents, travel luggage, small items, and more? V-Box offers an excellent choice at just 150,000 VND/Box/month (with a minimum rental of 3 boxes).
1. Rent 5-Star Standard V-Box Storage Units from the Comfort of Your Home
Our Storage By The Box service is designed to help customers save costs and time while ensuring strict requirements for the security, safety, and transportation of goods.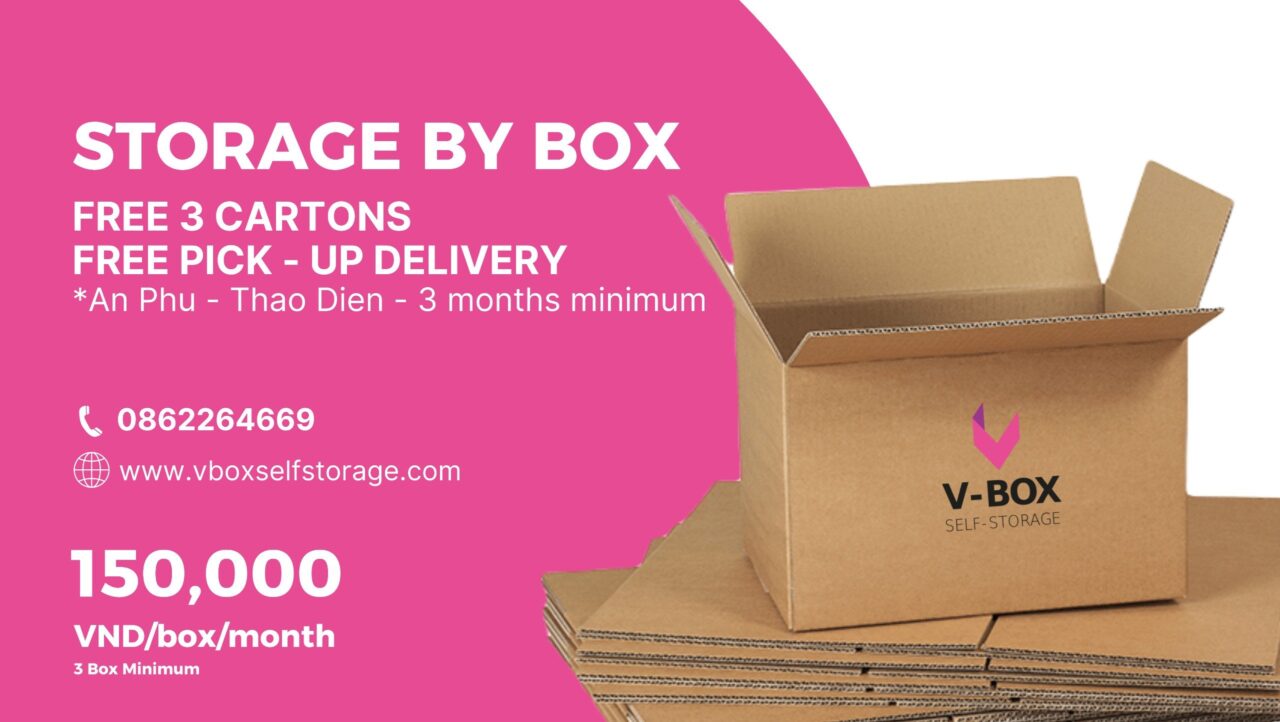 Currently, V-Box is offering a special promotion: RENT FOR A MINIMUM OF 3 MONTHS AND FREE PICKUP (applicable to the An Phu and Thao Dien areas). Here are the simple steps to get started:
Step 1:

You can either book your storage rental online or contact us through our website, email, phone, or Facebook to discuss your requirements. The V-Box team will provide advice on selecting the right storage space and a price quote.

Step 2:

V-Box will deliver at least 3 cartons sized 406040 for you to pack your items. On the scheduled date, we will come to pick up your belongings and store them at V-Box. You can visit our facility at any time. 

Step 3:

When you need to retrieve your items, V-Box will handle the warehouse release procedure and transport your goods to your specified location.
2. V-Box – The Leading Provider of Affordable Climate-Controlled Shared Storage in Ho Chi Minh City 
V-Box was founded by a team of Vietnamese and international experts in the field of self-managed storage rentals. Our facility is located in Thu Duc City with over 250 storage units built and managed to international standards. V-Box is an official member of the Self-Storage Association Asia (SSAA), and we are committed to providing the best services for storing and protecting your assets.
V-Box is currently the most affordable and high-quality climate-controlled shared storage provider in Ho Chi Minh City, offering:
Price at only 150,000 VND/box/month: The most competitive rate on the market
Terms: Minimum rental of 3 box.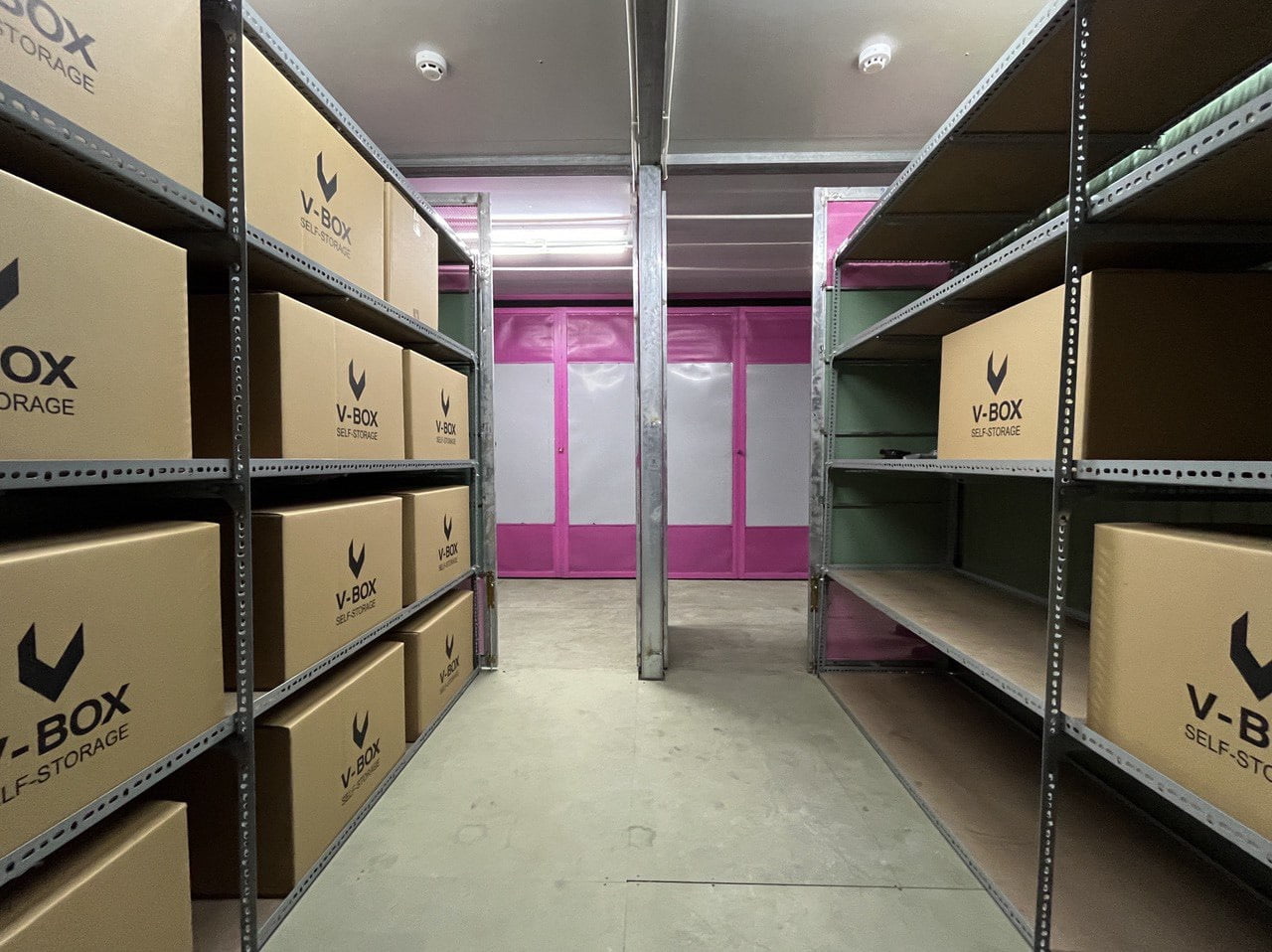 3. Why You Should Choose V-Box's Climate-Controlled Shared Storage Service
3.1. 100% customer satisfaction with
V-Box's climate-controlled shared storage service
3.2. Cost savings
You only pay for the storage space you actually need, not the entire warehouse.
3.3. Flexible personal space
With V-Box, you can easily expand or reduce your space as needed.
3.4. No initial investment required
You don't have to invest in purchasing and installing shelves, cooling equipment, or management systems. V-Box helps you reduce initial investment and financial risks.
3.5. Additional Services
Our storage units are pest-controlled, clean, secured 24/7, temperature and humidity-controlled, inventory-managed, equipped with goods elevators, hand trucks, pallets, and cartons.
3.6. Professional and enthusiastic service staff
V-Box has a professional and dedicated team ready to assist you in the selection and use of storage facilities.
3.7. Convenient and straightforward rental and return process
V-Box ensures a convenient and straightforward rental and return process, saving you time and effort.
3.8. Convenient Location
Our location in the inner city offers easy access for all types of vehicles, including motorcycles, cars, and trucks, making it convenient for travel to Xa Lo Hanoi and other central areas.
4. Common Items Stored in V-Box's Climate-Controlled Shared Storage
Fashion: Fashion clothing, travel luggage
Office Supplies: Books, souvenirs, decorations, company documents
Household Goods: Kitchen equipment, gifts, decorations
Let V-Box help you save costs, manage efficiently, and protect your goods. Don't hesitate – contact us today for more details and to receive the best deals!
Hotline: +84 (0) 86 226 4669
Address: 54B Nam Hoa, Phuoc Long A Ward
V-Box Self Storage – The perfect storage and inventory management solution for you!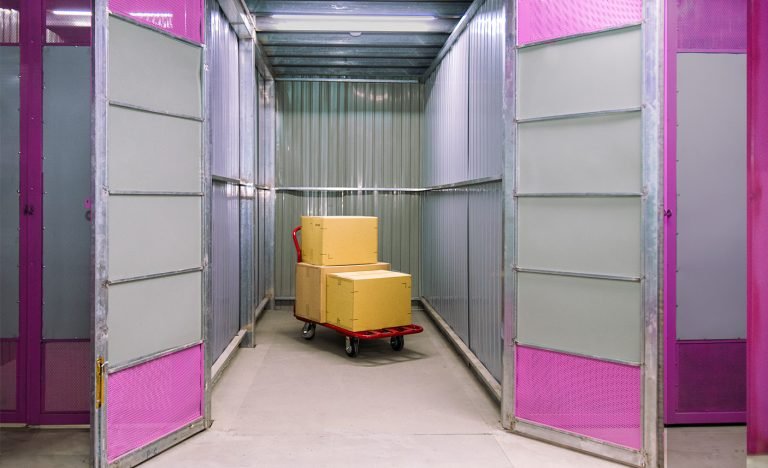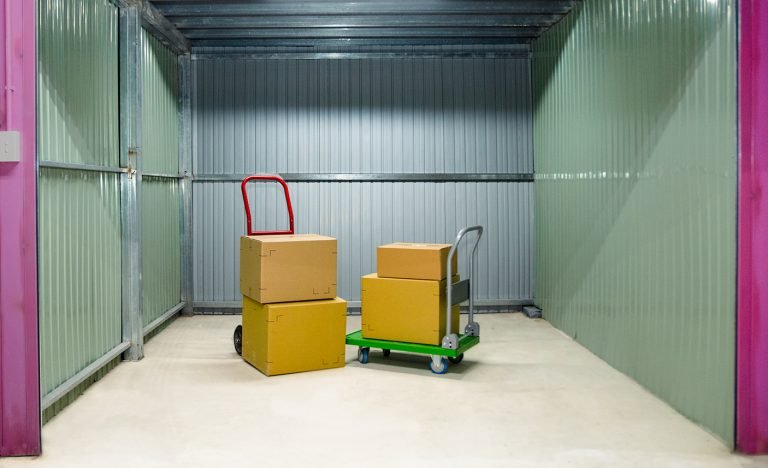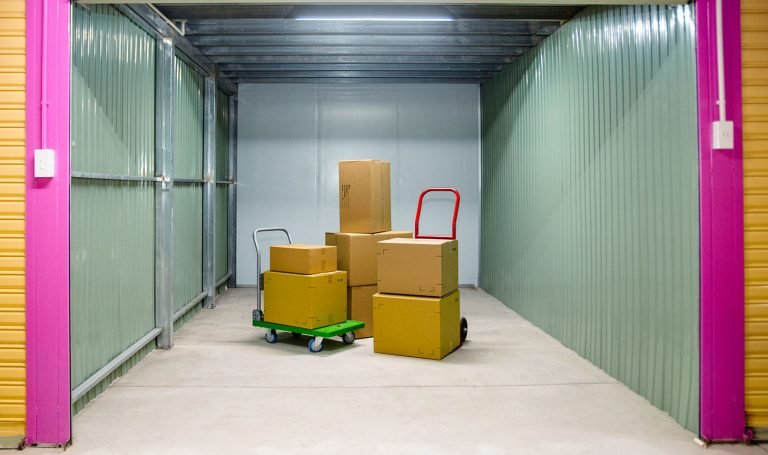 Small
Sizes (subject to availability)
Perfect for storage of spare documents, bicycles, small furnishings, bottles of wine or anything you may need extra large closet space for. Great for individuals or businesses who want to reduce clutter. Choose climate-controlled for more sensitive items or one of our standard units.
1.5 x 3.3 x 2.5 / 12.5 m3 / 4.9 m2
1.95 x 3.3 x 2.5 / 16 m3 / 6.4 m2
1.95 x 3.3 x 2.5 / 16 m3 / 6.4 m2
1.95 x 3.9 x 2.5 / 19 m3 /7.6 m2
Medium
Sizes (subject to availability)
For those looking for a bit of extra space to store spare furniture, boxes of documents, family items, or extra inventory, our medium box fits the needs of families or small businesses who need safe, and easily accessible storage space. Standard and climate-controlled units available.
3 x 3 x 2.5 / 22.5 m3 / 9 m2
3 x 3.3 x 2.5 / 24.75 m3 / 9.9 m2
Large
Sizes (subject to availability)
Our large units are the size of a small bedroom or small garage and can easily handle multiple pieces of furniture from couches, to bed sets, and more. Businesses can easily fit a large quantity of records, inventory, spare fixtures and more. With easy access for individuals and staff, your items are always available. Ask us about special sizing, special climate-controlled units and pricing for those needing multiple units.
3.3 x 3.9 x 2.5 / 32.1 m3 / 9 m2
3 x 4.85 x 2.5 / 36.37 m3 / 14.5 m2
3.9 x 3.9 x 2.5 / 38.02 m3 / 15.21 m2 (CC only)