CLIMATE CONTROLLED STORAGE UNIT IN HCMC

PRICES STARTING FROM 1.707.750 VND / MONTH
1. What is Climate Controlled Storage Unit?
Climate Controlled Storage Unit services offer temperature-controlled storage space for preserving goods at low temperatures or maintaining specific temperature and humidity conditions. This service helps individuals and businesses save costs as there is no need to invest in storage infrastructure and equipment.
If you have the need to store products in industries such as healthcare, high-end leather furniture, imported wines, premium cosmetics, electronic devices, household items, or any industry requiring specific temperature and humidity conditions to ensure product quality and safety, then V-Box is your top choice!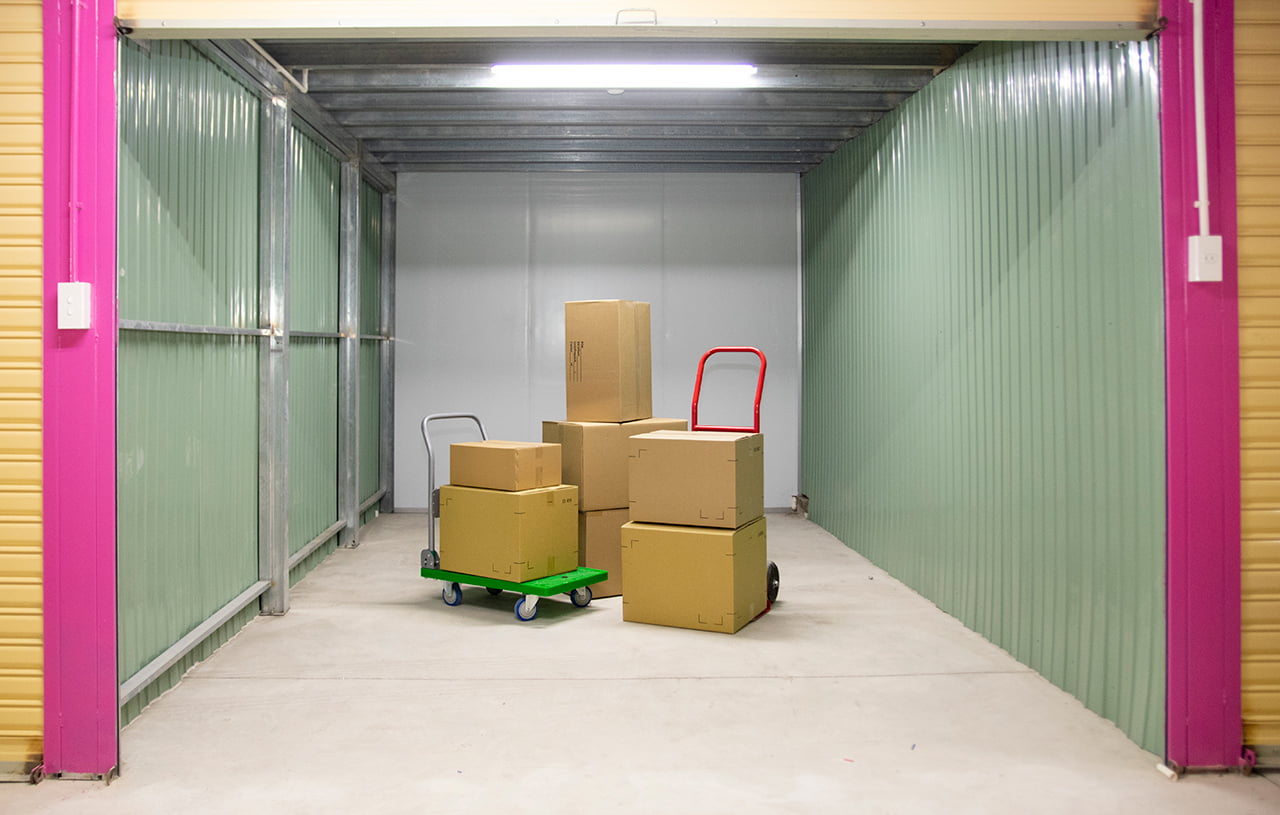 2. V-Box – The Leading Affordable Climate Controlled Storage Unit Provider in Ho Chi Minh City
V-BOX was founded by a team of Vietnamese and international experts in the field of climate-controlled storage unit rental, located in Thu Duc City with over 250 storage units built and managed according to international standards. V-BOX is an official member of the Self-Storage Association Asia (SSAA), and we are committed to providing the best services for storing and safeguarding assets for our customers.
V-BOX is currently the highest quality and most affordable climate-controlled storage unit provider in Ho Chi Minh City. Contact us for consultation.

3. V-Box Climate Controlled Storage Units Satisfy 100% of Customers and Are Widely Recommended Throughout Ho Chi Minh City
V-Box climate-controlled storage units meet all your requirements:
The storage unit temperature is consistently maintained between 18-23°C, with humidity at 50-55%. Effective and even cooling is ensured throughout all areas within the unit.

A fully equipped fire prevention and firefighting system.

24/7 security surveillance cameras and security personnel.

A dedicated cleaning team for regular maintenance. Periodic pest control.

All your storage information is securely protected upon request. You will have your own key to your rented storage unit.

Spacious units located in an inner-city area, with excellent transportation infrastructure for convenient truck and container access.

A healthy, friendly, and courteous staff dedicated to assisting customers with quick and efficient goods handling.

Ready-to-use storage containers, packaging materials, and lining materials are available when needed. We have a complete range of hand trucks, trolleys, and forklifts, as well as specialized equipment for swift cargo loading and unloading.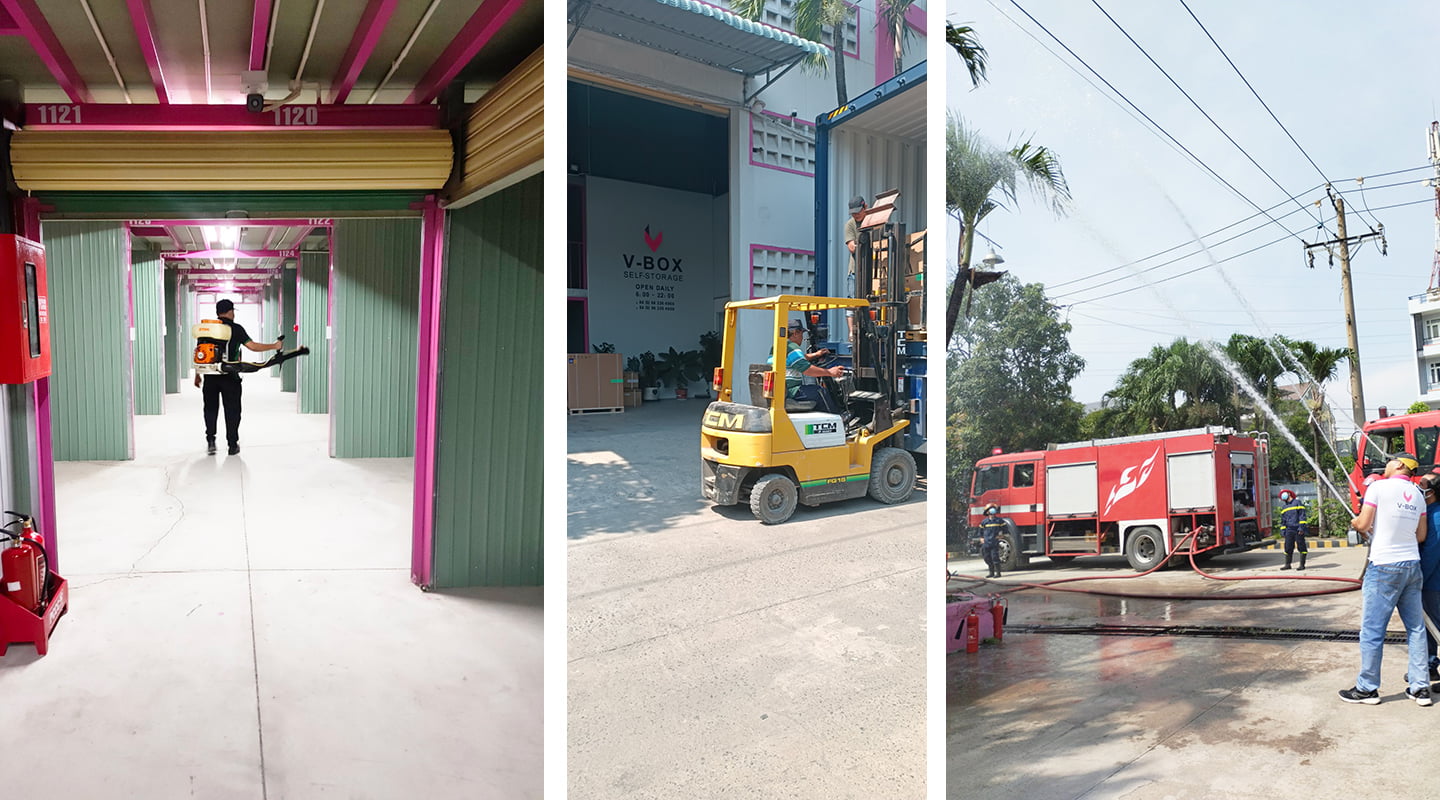 4. V-BOX Climate Controlled Storage Unit: A Commitment to Top Quality in Ho Chi Minh City
4.1. International Standards (Member of SSAA)
As a member of the Self-Storage Association Asia (SSAA), V-Box consistently ensures the quality of physical facilities, security, technical processes, and inventory management.
4.2. The Most Affordable Prices in the Market
V-Box is committed to providing high-quality climate-controlled storage unit services at the most affordable prices in the Ho Chi Minh City market. Register with us to experience our climate-controlled storage unit services.
4.3. Diverse Unit Sizes, Including Custom Options
V-Box offers units in various sizes to meet the diverse needs of individuals and businesses:
Small Units: 4.9 m2 – 6.4 m2

Medium Units: 9 m2 – 9.9 m2

Large Units: 14.5 m2 – 15.2 m2

Shared Units: Storage by The Box

You can also request custom unit sizes to suit your specific requirements.
4.4. Common Items You Can Store at V-Box Climate Controlled Storage Units
Machinery and electronic components.

Moisture-sensitive goods such as

paper, books, wood, and fabric that require humidity control to prevent moisture or mold growth.

Agricultural products:

seeds and packaged food from farms.

Alcohol and distilled beverages

Leather, wood, stainless steel furniture, documents, office supplies

Artwork, bamboo, rattan

Auto accessories, electronic components
Additionally, V-Box customers also prefer to store the following items:
Furniture:

High-quality leather sofas, wooden furniture, office furniture.

Wines:

Imported wines from various countries.

Premium Cosmetics:

French cosmetics, Korean cosmetic brands, and other cosmetic products.

Fashion:

Fashion clothing, leather shoes, etc.

Office Supplies:

Books, souvenirs, decorative items, company documents.

Electronic Devices:

Products from brands like Bosch, Hafele, computers, laptops, electronic chips, car accessories.

Household Goods:

Bathroom and kitchen appliances, gifts, decorative items.
Self-storage Climate Controlled Unit Price list 2024: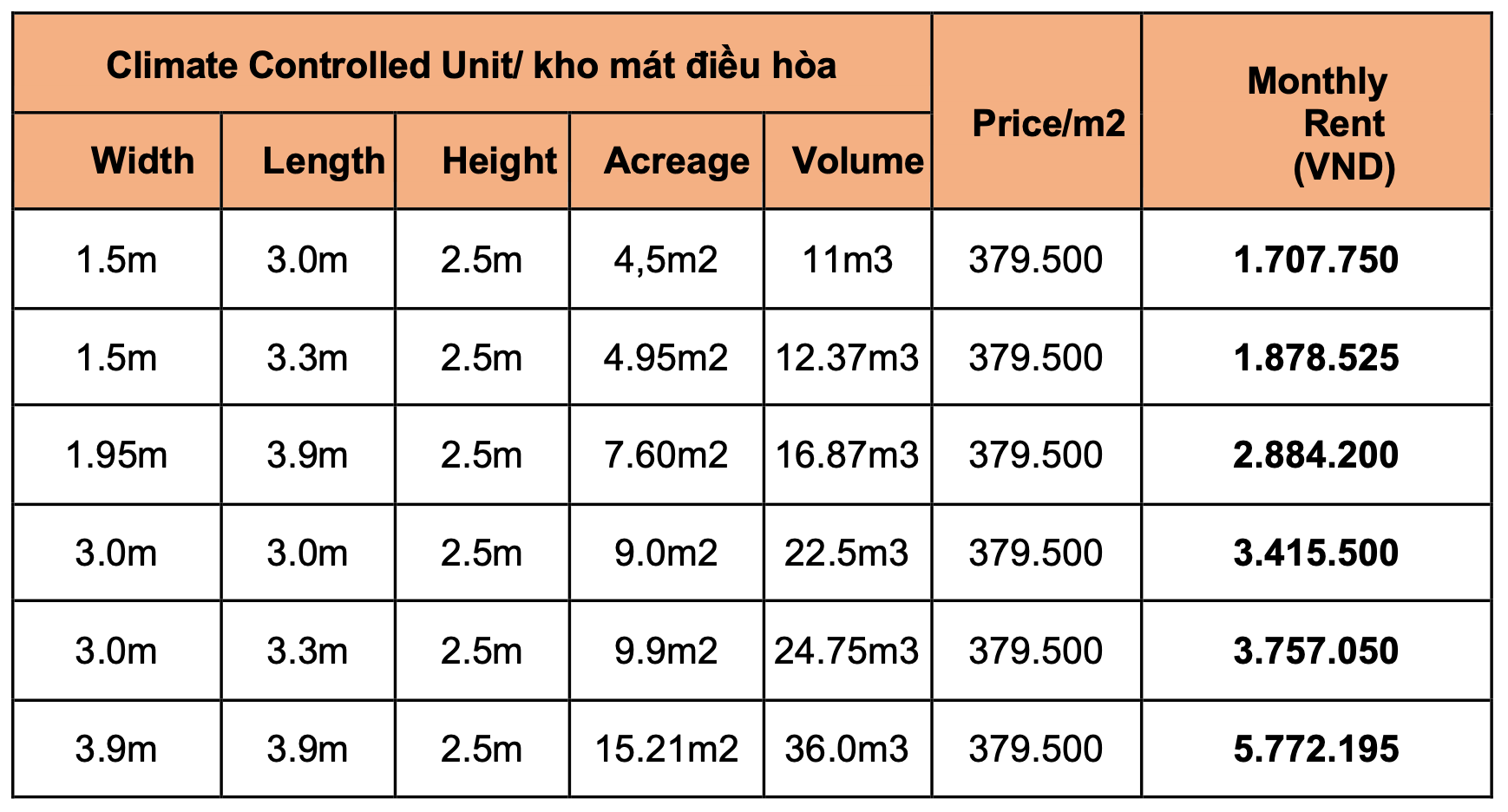 If you have any doubts about climate-controlled storage unit services in HCMC, let V-Box Self Storage answer your questions directly and free of charge over the phone. We will respond within 15 minutes or sooner.
Let V-Box help you save costs, manage efficiently, and protect your goods.
Don't hesitate, contact us today for more details and to receive the best deals!
Hotline: +84 (0) 86 226 4669
Address: Valley 2, Thuy Loi, Phuoc Long A, Thu Duc City, Ho Chi Minh City
V-Box Self Storage – The perfect storage and inventory management solution for you!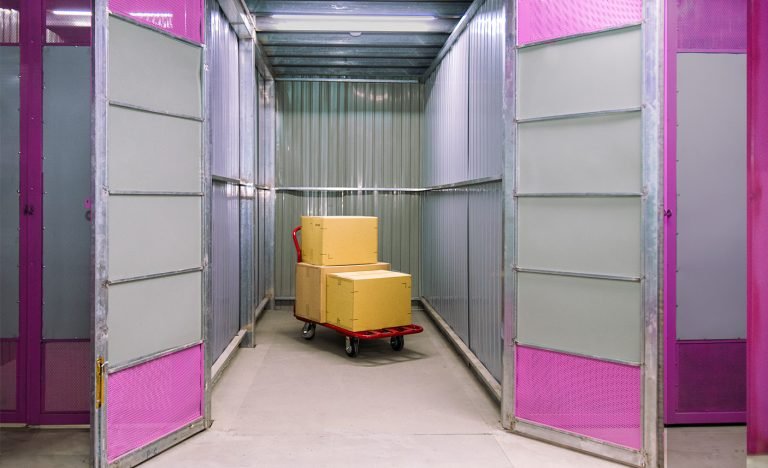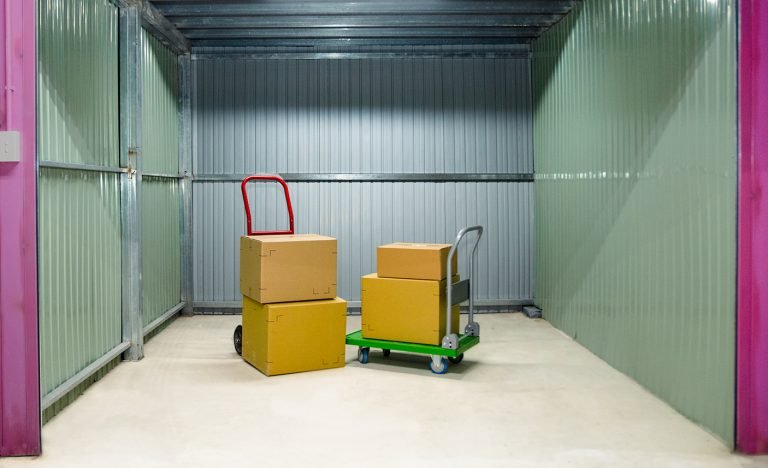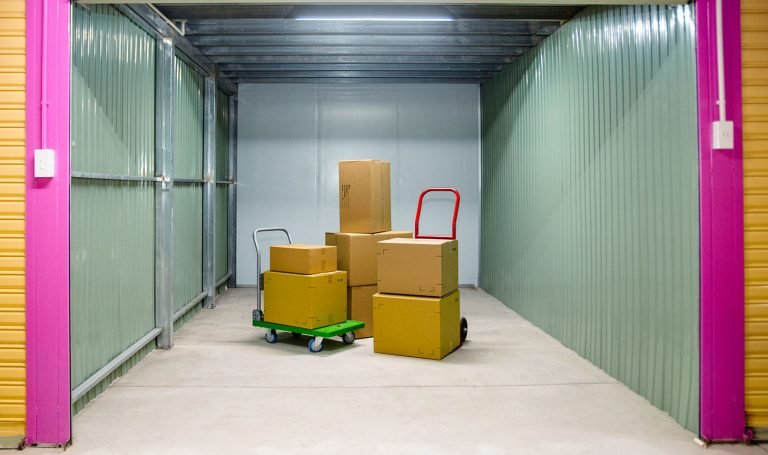 Small
Sizes (subject to availability)
Perfect for storage of spare documents, bicycles, small furnishings, bottles of wine or anything you may need extra large closet space for. Great for individuals or businesses who want to reduce clutter. Choose climate-controlled for more sensitive items or one of our standard units.
1.5 x 3.3 x 2.5 / 12.5 m3 / 4.9 m2
1.95 x 3.3 x 2.5 / 16 m3 / 6.4 m2
1.95 x 3.3 x 2.5 / 16 m3 / 6.4 m2
1.95 x 3.9 x 2.5 / 19 m3 /7.6 m2
Medium
Sizes (subject to availability)
For those looking for a bit of extra space to store spare furniture, boxes of documents, family items, or extra inventory, our medium box fits the needs of families or small businesses who need safe, and easily accessible storage space. Standard and climate-controlled units available.
3 x 3 x 2.5 / 22.5 m3 / 9 m2
3 x 3.3 x 2.5 / 24.75 m3 / 9.9 m2
Large
Sizes (subject to availability)
Our large units are the size of a small bedroom or small garage and can easily handle multiple pieces of furniture from couches, to bed sets, and more. Businesses can easily fit a large quantity of records, inventory, spare fixtures and more. With easy access for individuals and staff, your items are always available. Ask us about special sizing, special climate-controlled units and pricing for those needing multiple units.
3.3 x 3.9 x 2.5 / 32.1 m3 / 9 m2
3 x 4.85 x 2.5 / 36.37 m3 / 14.5 m2
3.9 x 3.9 x 2.5 / 38.02 m3 / 15.21 m2 (CC only)